New Zealand: Christchurch and Lyttelton
Christchurch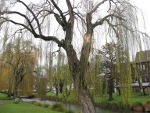 Having learnt our lesson the previous day we drove straight to the park and parked next to the botanic gardens. From there we walked around the city centre, ignoring the winter weather in our desire to see something of this city.
We followed the walking route suggested by the city tourism office and we able to admire the cathedral as well as the lesser known buildings and monuments. Christchurch was for us the most beautiful city that we visited in New Zealand. Although the charm of the country is obviously the unspoilt landscapes.
Lyttelton
We'd arranged to meet some of Joel's relations while we were in Christchurch and so having sated our touristic instincts we headed to the port town of Lyttelton, reached via a tunnel that bores through the hills surrounding the bay itself.
The directions that we were given enabled us to find the house easily and the slight confusion as to whether to look first on the left or the right was resolved with a cheery greeting of "Are you Joel and Cristina?". The sheer size of our camper van obviously helping with our identification!
Despite never having met before we were welcomed as if we were close friends who had dropped in for a chat after a long absence.
We spent a very pleasent afternoon in their company and were given a brief tour of the area around Lyttelton, New Brighton and Scarborough - enough to know that we wanted to come back and visit the area in more depth.
After a delicous meal we realised that we were going to be late for a sauna session that we had booked in the campsite. However the camper was parked in such a restricted space that we needed twenty minutes of careful manouvering to extract it and as a result our haste was in vain!
We said our goodbyes to our new found friends and headed back to the campsite.