New Zealand: Rotorua to Lake Taupo
Around Rotorua
Our original plan had been to be up at reception at 08:00 to ask about geothermal tours but our late night got the better of us and we didn't get up until 08:30. Instead we decided to do our own private tour and visit the different places at our leisure.
A very helpful guy in reception was happy to help us decide where to go and also signed us up for a Top 10 Club card so we'd get discounts on the various attractions and in Top 10 campsites - which from our experience were all top notch.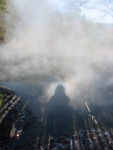 Our first stop was the Kairua Park, just next to the campsite. This is where we saw our first boiling mud pools. It was very strange to see steam coming out of the ground!
Before leaving the town we took a trip down to the lake but were only there for a short time before we decided to head out to the first of the thermal parks that we would visit today.
Te Puia
In Te Puia we got another opportunity to learn about Maori culture and visited a carpentery workshop and dress making shop before going to see another concert.
This time we knew what to expect (and in daylight it wasn't quite so scary!) and enjoyed the formal welcome even more. Kia ora!
After the formal welcome we walked althogether towards the Meeting house and after taking off our shoes we took our seats to enjoy the concert. Similar to that of the day before but we found that we enjoyed it even more. Who said that familiarity breeds contempt?
After the concert we joined a tour given by a Maori guide, obsessed with rugby and sharing the same sense of humor as Nutter had. As the geysers were active he brought us straight down to them, explaining on route that we had different options that he was skipping. Once again we got an introduction to Maori history and cultures (we'd be experts by the end of the trip!) and a geological explaination of the causes of the various geo thermal phenomenon that we'd see.
After the tour we could take various options to go back to the main area, we decided to take it easy and even though we saw lots of different things (including a Kiwi - the bird not the fruit) we didn't take the longest route through the park.
Even so we were surprised with how late it had gotten by the time we got back to the camper, we had a quick lunch and headed off, hoping to get to our next destination before they closed for the evening.
Wai-O-Tapu
We needed to get to the Thermal Wonderland before 15:45, we thought we'd made it on time when we reached the turn off but it turned out that the last 2km was a much slower road. In the end we got there around 15:55 but Cris was able to persuade them to let us in anyway. So under the admonition to be back by 16:50 we started our tour.
It turned out that getting there just before closing means that the park is almost empty, maybe everyone comes for the Lady Knox Gesyer that erupts at 10:15 daily. In any case we were able to walk around without encountering almost anyone else.
The park was amazing, in parts it really seemed like another planet and the colours of the lakes were astonishing. Some lakes are red due to the iron content and others yellow due to the sulfer. The sheer size of everything made it quite difficult to grasp! (A cloud of steam is unusual but when it is the size of a large house it is even more so.)
In the end we made the exit with about twenty minutes to spare and were thanked for our consideration by the staff. It turned out that some people who'd started before us hadn't yet come back.
Arriving to Taupo
By now it was starting to get dark but we decided to pause at a viewing park that overlooked Huka Falls (we didn't have time to get to the falls them selves). Apparently these are the most impressive falls in the Southern Hemisphere.
Heading back out onto the road we soon reached Taupo town where we found the campsite very quickly, both due to good navigation by Cris and due to the clarity of "Top 10" signposting. Unusually this campsite had access protected by a PIN and the keypad was designed for a car (we had to reach down quite a bit) but the campsite facilities more than made up for this minor quirk.
We cooked a nice supper of pasta with tuna and headed to bed. The goal for following day was to drive to Wellington and this meant one of the longest day's drive yet.